June 21, 2006 – This page is dedicated to Vincent Coviello, longtime Eagle Scout Chairman for the Algonquin District and a true friend of scouting.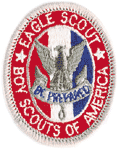 Significance
The fact that a young man is an Eagle Scout has always carried with it a special significance, not only in Scouting but also as he enters higher education, business or industry, and community service. The award is a performance-based achievement whose standards have been well-maintained over the years.
Not every youth who joins a Boy Scout troop earns the Eagle Scout rank; only about 4 percent of all Boy Scouts do so. This represents more than 1 million Boy Scouts who have earned the rank since 1911. Nevertheless, the goals of Scouting—citizenship training, character development, and personal fitness—remain important for all Scouts, whether or not they attain the Eagle Scout rank.
Troop 11 Eagle Scout Roster
Troop 11 has a distinguished history of assisting boys achieve the Eagle Scout rank. The following is the roster of Troop 11 Eagle Scout recipients.  
Steven Rowan (1967)

 

 

Steve Garnett (1970)

Lawrence Head (1970)

Frank Kluger (1970)

David Meyer (1970)

Charles Blenzig (1972)

 

Leon Brown (1972)

 

David Dubinsky (1972)

 

Leon Israel (1972)

 

Jeffrey Meissner (1972)

 

Anthony Miano (1983)

 

Thomas Salvatore* (1983)

 

Gregory Vajda (1985)

Matthew Fasman (2000)

 

 

Adam Cherko (2001)

Jason Head (2001)

Adam Sherwin (2002)

Justin Samela* (2003)

Stephen Pascuzzi (2004)

Nathaniel Fasman (2005)

Matthew Csenge (2006)

Ryan Pascuzzi (2006)

Michael LaPlace (2007)

Christopher Vallario (2007)

John Chimento (2008)

 

 

Xavier Torrientes (2008)

George Orphanides (2008)

Peter Orphanides (2010)

Eric Jordan (2010)

Andrew Willis (2010)

Steven Nagl (2012)

Matthew Baffuto (2015)

Whit Johnson (2016)

Amitabh Asokumar (2017)

Mike Ruggerio (2018)

Henry Woods Johnson (2019)

Shane Thomas (2019)

Clint Mohammed (2020)

 Joe Daprocida (2021)
Scout names highlighted in red , are featured in our Event gallery page with a small slide show of work from their Eagle projects.
Please visit our Event Gallery and take a look at their hard work while serving their community.